Helium 10 vs Jungle Scout
Based on my experience, here's comprehensive comparison between Helium 10 vs Jungle Scout, highlighting their features, pricing, and pros and cons, to help you make an informed decision for your business. I've used both Helium 10 and Jungle Scout as an Amazon consultant as an Amazon Seller and… here's what I think of them
Helium 10 Product Research vs Jungle Scout
One of the most popular features of Helium 10 is the Black Box, a product research tool designed to help you identify profitable product ideas. By inputting specific criteria, you can quickly narrow down the vast Amazon marketplace to a manageable list of potential products. The advanced filters in Black Box allow you to search based on various factors, such as estimated revenue, price range, and review count. You can start your research by product, ASIN, niche, competitors…
The Black Box has over 500M products and keywords indexed and growing and works for 11 Amazon Markets
Jungle Scout's Product Database serves a similar purpose to Helium 10's Black Box, offering a comprehensive database of product ideas for Amazon sellers. With a user-friendly interface, you can easily filter through 400M of products based on your preferred criteria, such as sales rank, category, and price range. Additionally, Jungle Scout's database is updated regularly, ensuring that you have access to the latest product opportunities.
Jungle Scout Product Database has over 400M products and keywords indexed and growing and works, also, for 11 Amazon Markets
Helium 10 Keyword Research vs Jungle Scout
Cerebro, Helium 10's keyword research tool and reverse ASIN feature, helps you uncover high-traffic keywords for your Amazon listings. By entering an ASIN, Cerebro provides a list of relevant keywords, along with important metrics like search volume, competition level, and estimated sales. This valuable data allows you to optimize your product listings for maximum visibility and conversions.
Cerebro complements with other keyword research tools such as Magnet and Frankestein.
Cerebro, Magnet and Frankestein are Helium 10's 3 keyword research tools
Similar to Cerebro, Jungle Scout's Keyword Scout helps you find profitable keywords for your Amazon listings. By inputting a product or keyword, Keyword Scout generates a list of relevant keywords along with their search volume, competition level, and recommended PPC bid. With this data, you can make informed decisions about which keywords to target, improving your listing's visibility and ranking.
Jungle Scout Keyword Scout is the only keyword research tool for JS. However, it has no reverse ASIN search.
Helium 10 Listing Optimization Tools vs Jungle Scout
Helium 10's Scribbles is a listing optimization tool that helps you create compelling and SEO-friendly product listings. By inputting your chosen keywords, Scribbles generates a list of recommended phrases to include in your title, bullet points, and description. This ensures that your listing is optimized for both Amazon's algorithm and potential customers.
Helium 10 has 3 listing grading and optimization tools: Scribbles, Listing Analyzer and Listing builder
Jungle Scout's Listing Builder offers a similar service to Helium 10's Scribbles, guiding you through the process of creating optimized Amazon listings. By integrating with Keyword Scout, Listing Builder helps you incorporate relevant and high-traffic keywords into your title, bullet points, and product description. Additionally, Listing Builder provides a Listing Optimization Score, helping you gauge the effectiveness of your listing before publishing.
Jungle Scout has only one grading and optimizer for listings
Competitor Analysis Tools
Helium 10's Xray is a powerful competitor analysis tool that provides insight into the performance of other sellers' products on Amazon. With Xray, you can gather crucial information such as sales volume, revenue, and review data. This enables you to understand the competitive landscape of your niche, identify potential gaps, and create a well-informed strategy for your Amazon business.
Xray, Market Tracker and Market Tracker 360 are the 3 competitor analysis tools for Helium 10
Jungle Scout's Competitor Tracker allows you to monitor the performance of your competitors' products on Amazon. By tracking key metrics such as sales, revenue, and inventory levels, you can stay ahead of the competition and make data-driven decisions for your business. Competitor Tracker also alerts you to any changes in your competitors' listings, such as price adjustments or new reviews, ensuring that you remain informed about your market.
Again, Jungle Scout has only one (and limited) tool to track your competitors
Other tools
Needless to say that Helium 10 has more tools than Jungle Scout. Some of them are:
Pricing Comparison
Helium 10 Pricing
Helium 10 offers a free plan with limited access to its tools, making it a viable option for those just starting their Amazon business. For more advanced features, Helium 10 has a range of paid plans starting from $37 per month for the Starter Plan, $97 per month for the Platinum Plan, and $197 per month for the Diamond Plan. There is also an Elite Plan, priced at $397 per month, which caters to large-scale sellers and agencies.
Jungle Scout Pricing
Jungle Scout also provides a range of pricing options to suit various budgets and business needs.  It has no free plan. The Basic Plan starts at $49 per month, while the Suite Plan, which includes more advanced features, is priced at $69 per month. For larger businesses, the Professional Plan is available at $129 per month. Annual billing options are available, offering substantial discounts compared to monthly billing.
Helium 10 vs Jungle Scout full comparison
When it comes to features, Helium 10 wins: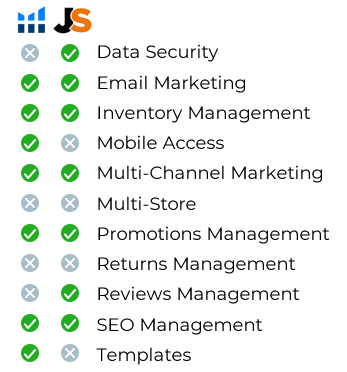 When it comes to the support, technical / platform compatibility, Helium 10 also wins Jungle Scout
Pros and Cons
Helium 10 Pros
+30 Amazon Seller tools for product research, keyword research, listing optimization, competitor analysis and operations
Free plan available with limited access to features
Flexible pricing options to suit different budgets and needs
Regularly updated and improved, with new features added frequently
Helium 10 Cons
Can be overwhelming for beginners due to the vast array of tools and features
Steep learning curve, you need to watch the videos and tutorials
Customer support could be improved, sometimes it's slow
Jungle Scout Pros
User-friendly interface, making it easy for beginners to navigate
Product research and keyword research tools easy to use and full of useful info
Integration with Amazon Seller Central for seamless data analysis. Integrates with Amazon Advertising as well
Excellent customer support and educational resources
Jungle Scout Cons
No free plan available
Inaccurate sales estimates (not always)
Limited listing optimization tools compared to Helium 10
Limited operation tools compared to Helium 10
Limited product and keyword research tools compared to H10
Conclusion
Both Helium 10 and Jungle Scout offer a plethora of features to help Amazon sellers optimize their businesses but Helium 10 wins on the overall comparison because it has more tools and features for the same price, plus it's data is more accurate than Jungle Scouts'
While Helium 10 is known for its comprehensive suite of tools and flexible pricing, Jungle Scout boasts a user-friendly interface and excellent customer support.
Ultimately, the choice between these two software options will depend on your specific needs, budget, and preferences. If you ask me? Helium 10, no questions asked. By comparing the features, pricing, and pros and cons of each platform, you can make an informed decision that best supports your Amazon business.