Helium 10 Alta Financial Services
Helium 10 Alta Financial Services is a financial management solution designed specifically for Amazon sellers. Long story short: cash flow for Sellers.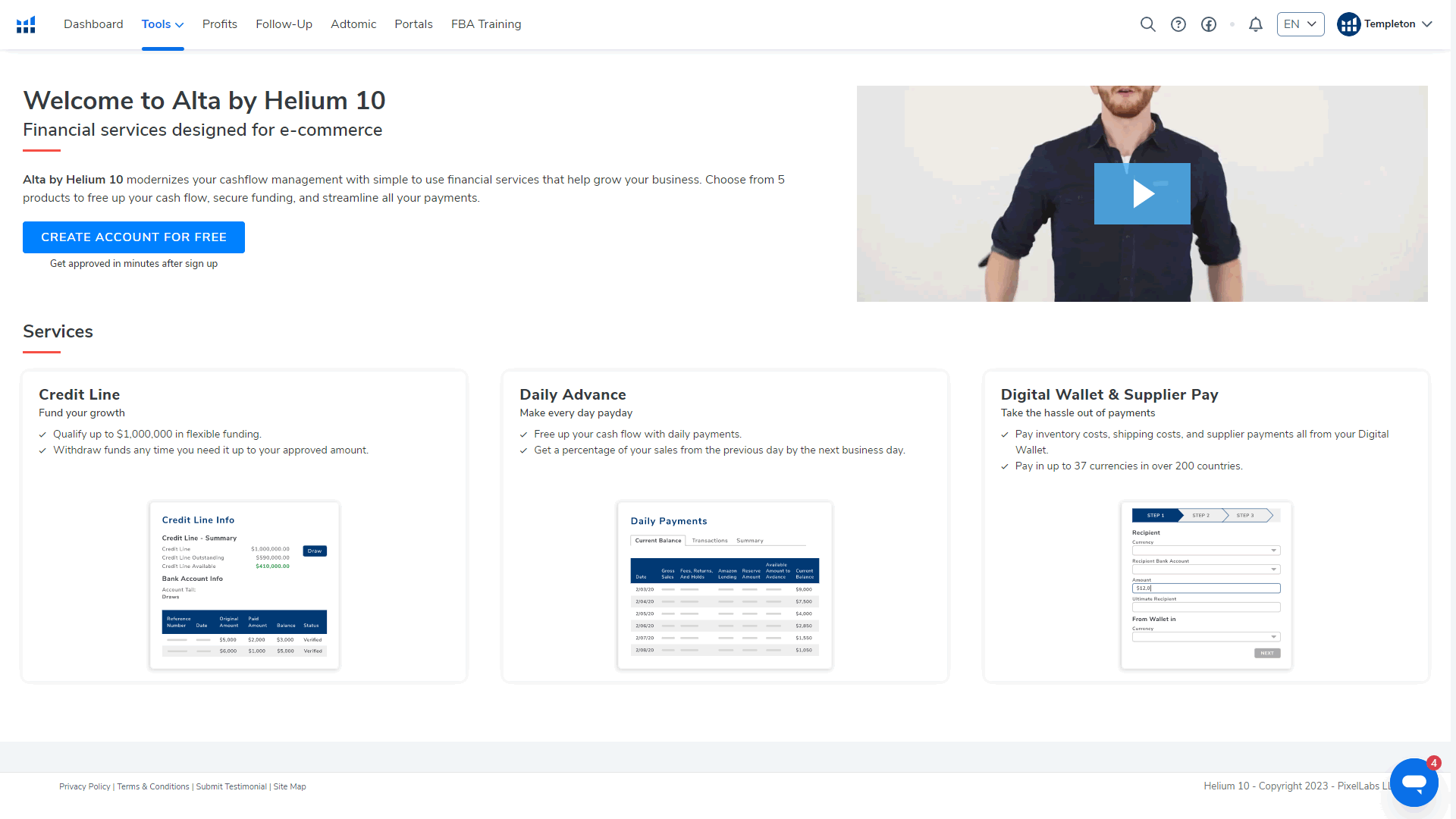 Alta Services
Alta by Helium 10 simplifies cashflow management for your business with its user-friendly financial services that facilitate growth. You can choose from 5 different products to optimize your cash flow, secure funding, and streamline all of your payments.
Sellers Funding supports and powers Alta, and specializes in providing financial solutions for e-commerce merchants and brands. It's services include 3 types:
Credit Line
Access flexible funding of up to $1,000,000 to fuel your growth. You can withdraw funds at any time up to your approved amount.
Daily Advance
Free up your cash flow and get paid every day with our daily payment service. You'll receive a percentage of your previous day's sales by the following business day.
Digital Wallet & Supplier Pay
Make payments a breeze by using our digital wallet to pay for inventory, shipping, and supplier costs. You can pay in up to 37 currencies in over 200 countries.
Financial tools
As an Amazon seller, managing your finances can be a daunting task, especially when it comes to tax compliance, financial reporting, and cash flow management. Alta Financial Services aims to simplify this process by providing a comprehensive suite of financial tools and services tailored to the needs of Amazon sellers.
Tax compliance
One of the key features of Alta Financial Services is its tax compliance service, which helps Amazon sellers navigate the complex world of tax reporting and filing. With this service, sellers can ensure that they are meeting all their tax obligations and avoiding penalties.
Financial reporting tools
Another important feature of Alta Financial Services is its financial reporting tools, which allow sellers to easily track their income and expenses, analyze their profitability, and generate financial reports for investors, lenders, and other stakeholders. By providing real-time insights into their financial performance, these tools can help sellers make data-driven decisions and grow their business.
Cash flow management tools
Alta Financial Services also offers cash flow management tools, which can help sellers manage their cash flow and optimize their working capital. With features like invoice factoring, lines of credit, and inventory financing, sellers can access the capital they need to grow their business without having to worry about cash flow constraints.