Helium 10 Amazon Anomaly Tracker
As an Amazon seller, one of the biggest risks you face is the possibility of your account being suspended. Account suspensions can be devastating, causing you to lose revenue and potentially damaging your reputation. However, there are steps you can take to protect your account and prevent suspensions from occurring. One such step is using Helium 10 Amazon Anomaly Tracker, a tool designed to help Amazon sellers identify and resolve anomalies in their accounts.
Anomalies are unusual or unexpected events that can trigger Amazon's suspension algorithms, potentially leading to account suspensions. With Helium 10 Amazon Anomaly Tracker, you can identify and resolve anomalies before they become a problem, protecting your account and your business.
You can also keep a track on Search results "temperature" to spot A9 algorithm changes, updates or even glitches. Long story short: risk of suspension or your products being deindexed.
There are 3 levels of anomalies:
Normal: Within the scope of expected variance
Moderate: Possible index disruption, monitor for changes
Extreme: Search glitch likely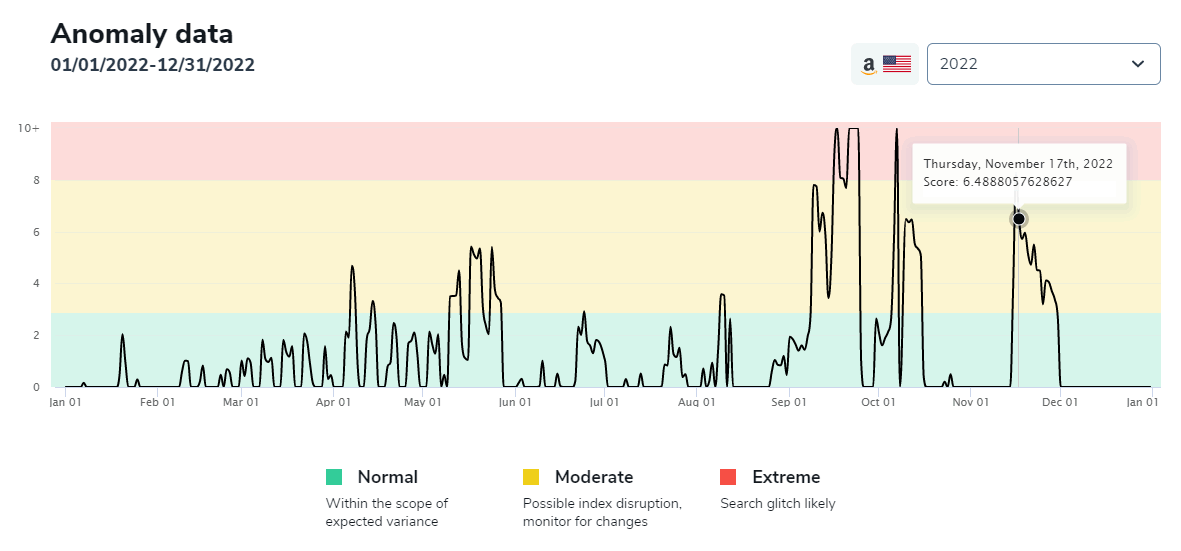 How Does Helium 10 Amazon Anomaly Tracker Work?
Helium 10 Amazon Seller Central Anomaly Tracker is a user-friendly platform that integrates with your Amazon Seller Central account. Here's how it works:
Anomaly Detection: Helium 10 Amazon Anomaly Tracker uses advanced algorithms to detect anomalies in your account, such as sudden changes in sales volume or negative customer feedback.
Alert System: When an anomaly is detected, Helium 10 Amazon Anomaly Tracker sends an alert to your email or mobile device, allowing you to take action before the anomaly triggers Amazon's suspension algorithms.
Root Cause Analysis: The platform provides tools to help you identify the root cause of the anomaly, such as a sudden increase in negative feedback or a change in your listing.
Resolution Management: Helium 10 Amazon Anomaly Tracker provides guidance and tools to help you resolve the issue and prevent it from occurring in the future, ultimately protecting your account from suspensions.