Helium 10 Magnet is designed to help Amazon sellers quickly and easily find profitable keywords and search terms to target on their product listings. This tool uses a unique algorithm to identify the most effective keywords that sellers should target in order to drive organic traffic and increase their sales.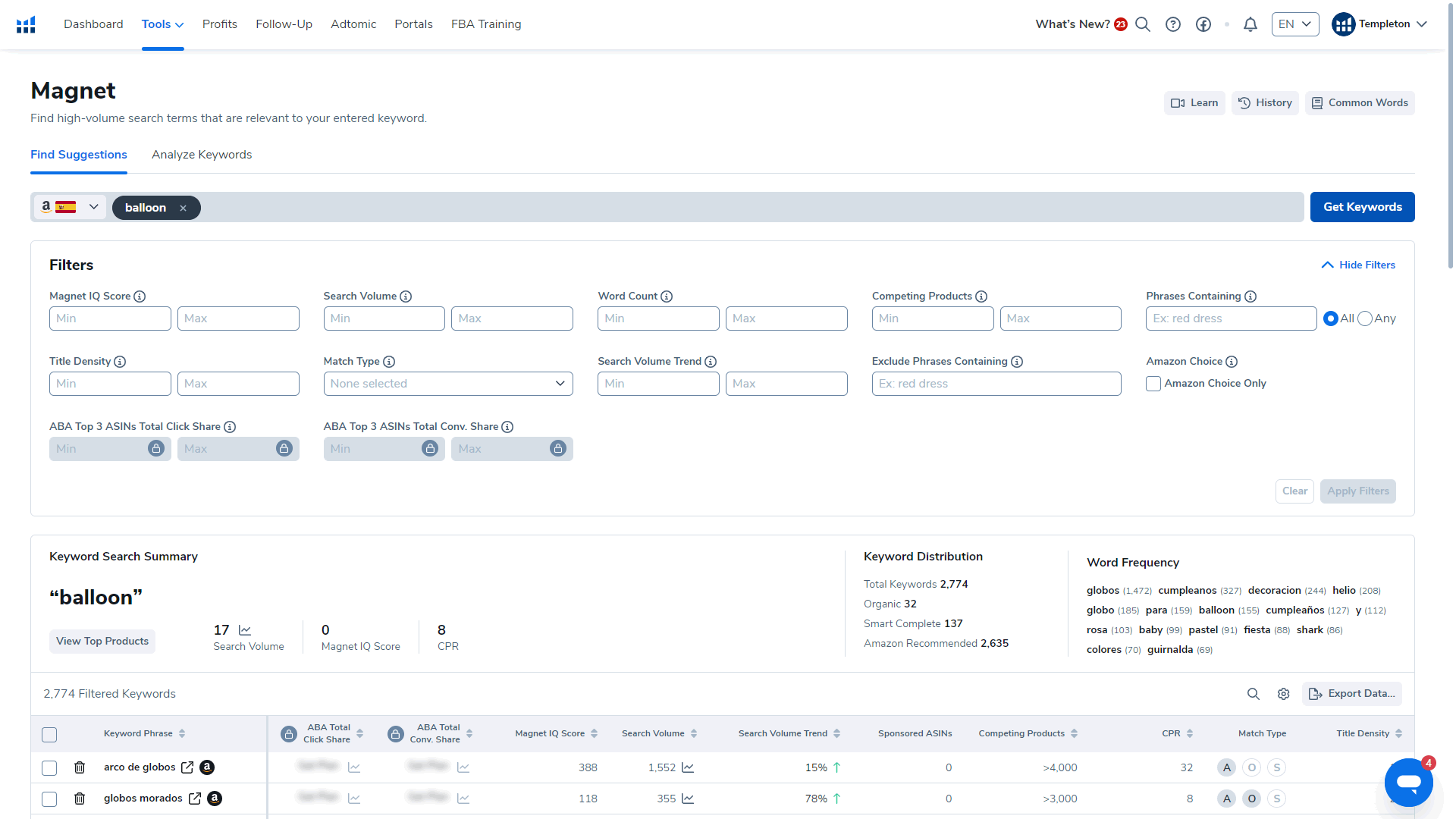 Available data
Magnet works both for Amazon and Walmart and shows the following data:
Amazon Brand Analytics Total Click Share
Amazon Brand Analytics Total Conv. Share
Competing Products
Cerebro Product Rank
Keyword Phrase
Magnet IQ Score
Match Type
Search Volume Trend
Search Volume
Sponsored ASINs
Title Density
You can both find suggestions for keywords or even analyze up to 200 keywords in bulk.
Pro Tip: combine Magnet with Helium 10 Cerebro to extract more keywords from your competitors using Reverse ASIN
How does it work
Helium 10 Magnet works by analyzing data from Amazon's keyword search index. It uses this data to identify the most popular search terms and keywords related to a specific product. It then presents this information in an easy-to-understand format that allows sellers to quickly identify the most effective keywords to target for their product.
The Helium 10 Magnet tool is designed to save time for sellers by automating the process of keyword research. This means that sellers no longer need to manually search for relevant keywords and phrases in order to optimize their product listings. Instead, they can simply enter their product's information into the Helium 10 Magnet tool and let the algorithm do the work for them.
Furthermore, Helium 10 Magnet offers a "Keyword Difficultly" feature that can help sellers determine the difficulty of ranking for a given keyword. This feature can help sellers identify keywords that they have a better chance of ranking for, thereby increasing their chances of success.