Helium 10 is an Amazon Seller FBA set of tools to help you on your daily routine when it comes to selling on the Amazon Marketplace. On the other hand, Quartile is an Amazon Advertising tool and service agency. Let's take a look at their main features and compare them, shall we?
Helium 10 is an all-in-one platform designed to provide Amazon sellers with a comprehensive suite of tools to optimize their product listings, perform keyword research, and track sales performance. Some of its key features include:
Product research and analytics
Keyword research and optimization
Listing optimization
Competitor analysis
Sales and profit tracking
Refund management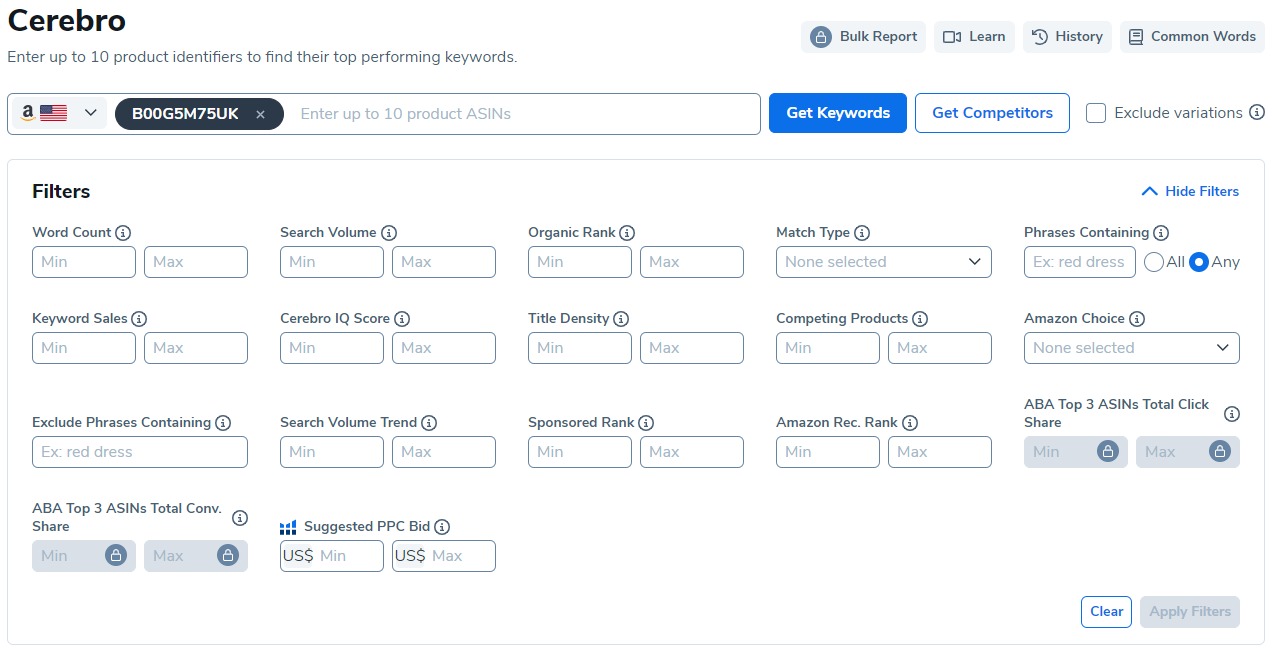 Quartile, on the other hand, focuses on providing Amazon sellers with a robust advertising management solution to improve their Sponsored Products, Sponsored Brands, and Sponsored Display campaigns. Its core features include:
Campaign management
Keyword management
Bid optimization
Performance reporting and analytics
Automated rules and bidding strategies
Customized reporting
Integration with Amazon Advertising API
Helium 10 vs Quartile pricing
Helium 10 offers four pricing tiers to cater to different business sizes and requirements:
Free plan: Limited access to features
Starter plan: $37/month
Platinum plan: $97/month
Diamond plan: $197/month
There are also annual plans available at discounted rates, and users can choose to purchase individual tools separately.
Quartile's pricing model is based on a percentage of advertising spend, with a minimum monthly fee. The exact pricing details are not readily available on their website and must be requested through a consultation. This approach allows Quartile to offer tailored pricing based on the specific needs and budgets of each client.
Customer Support
Helium 10 provides a comprehensive knowledge base, video tutorials, and a responsive support ticket system for its users. Additionally, it offers an active user community and hosts regular webinars to help users stay updated with new features and best practices.
Quartile also offers a knowledge base and support ticket system. However, one of its key differentiators is its dedicated account management service. This provides users with personalized support and expert guidance in developing and executing their Amazon advertising strategies.
Helium 10 vs Quartile full comparison
Quartile offers a powerful solution for Amazon ad management, with its AI-driven automation, top-notch customer service, and cross-channel functionality. However, sellers will need to consider whether the pricing plans align with their budget and whether they are comfortable relinquishing some control over their advertising campaigns to the platform's automation.
Helium 10, on the other hand, has an advertising tool called Adtomic easier than Quartile's software.
Quartile Pros:
Quartile offers an all-in-one resource for Amazon advertising that includes keyword research and target audience generation.
Quartile's cross-channel functionality allows for the management of Amazon campaigns, as well as ads on other sites like Walmart and Facebook, all in one place.
Quartile has a proven history of boosting sales growth for its clients, with many reporting better optimization and improved return on ad spend.
The customer service provided by Quartile's team is highly rated, with regular contact and dedicated account managers.
Provides an average 30% reduction in ACoS.
Provides access to valuable resources such as an active blog and on-demand webinars.
Offers a flat pricing strategy with no additional cost for account-managed service.
Offers a demo of the tool.
Offers automatic optimizations and configurations based on hourly data.
Quartile Cons:
Quartile's pricing may not be suitable for all sellers, with plans starting at $399 per month.
Some sellers may prefer to have more control over their advertising campaigns, rather than relying on automation.
Helium 10 pros:
Offers a more comprehensive suite of tools for product and keyword research than Quartile.
Provides advanced features like multi-user login, priority support, and higher usage limits.
Offers a free plan for users to test the platform before committing to a paid plan.
Provides educational resources like video tutorials, webinars, and a podcast.
Helium 10 cons:
Does not use AI technology to optimize campaigns.
Does not offer automatic optimizations and configurations based on hourly data.
Does not mention an average reduction in ACoS on their website.
Does not offer cross-channel ad management for other sites.
Offers less personalized customer support than Quartile.
Provides less access to valuable resources than Quartile.
Has a more complicated pricing structure