How can I Cancel my Helium 10 subscription
Yes, you can cancel Helium 10 at any time. The cancellation process is straightforward and can be done through your Helium 10 account. Simply log in to your account, go to the subscription page, and click on the "Cancel Subscription" button. Follow the prompts to complete the cancellation process. It's important to note that your account will remain active until the end of your current billing period, so you'll still have access to Helium 10's tools and features until that time.
Simply follow this link but change my account ID for yours: https://members.helium10.com/subscribe?accountId=654652654684
The software is subscription-based, meaning you have to pay a monthly fee to use it. The cost of the subscription varies depending on the level of service you choose, and it can range from $97 per month for the basic plan to $397 per month for the premium plan.
How to Cancel Helium 10
If you've decided that you want to cancel your Helium 10 subscription, there are a few different options available to you. The first option is to simply cancel your subscription. This can be done directly from your account page by selecting the "Cancel Subscription" option.
Once you've cancelled, your subscription will be immediately terminated and you won't be charged for any future payments. You may also be eligible for a refund of any payments you've already made, depending on the terms of your subscription.
Downgrade Your Subscription
Another option is to downgrade your subscription. Helium 10 allows you to switch between plans at any time, so if you're not satisfied with the service you're getting, you can switch to a lower-cost plan. For example, if you're on the premium plan and decide you don't need all the features, you can switch to the professional plan and save money.
For example, I've just downgraded my Diamond plan to Platinum, so I've got a "CANCEL DOWNGRADE" button on the plans breakdown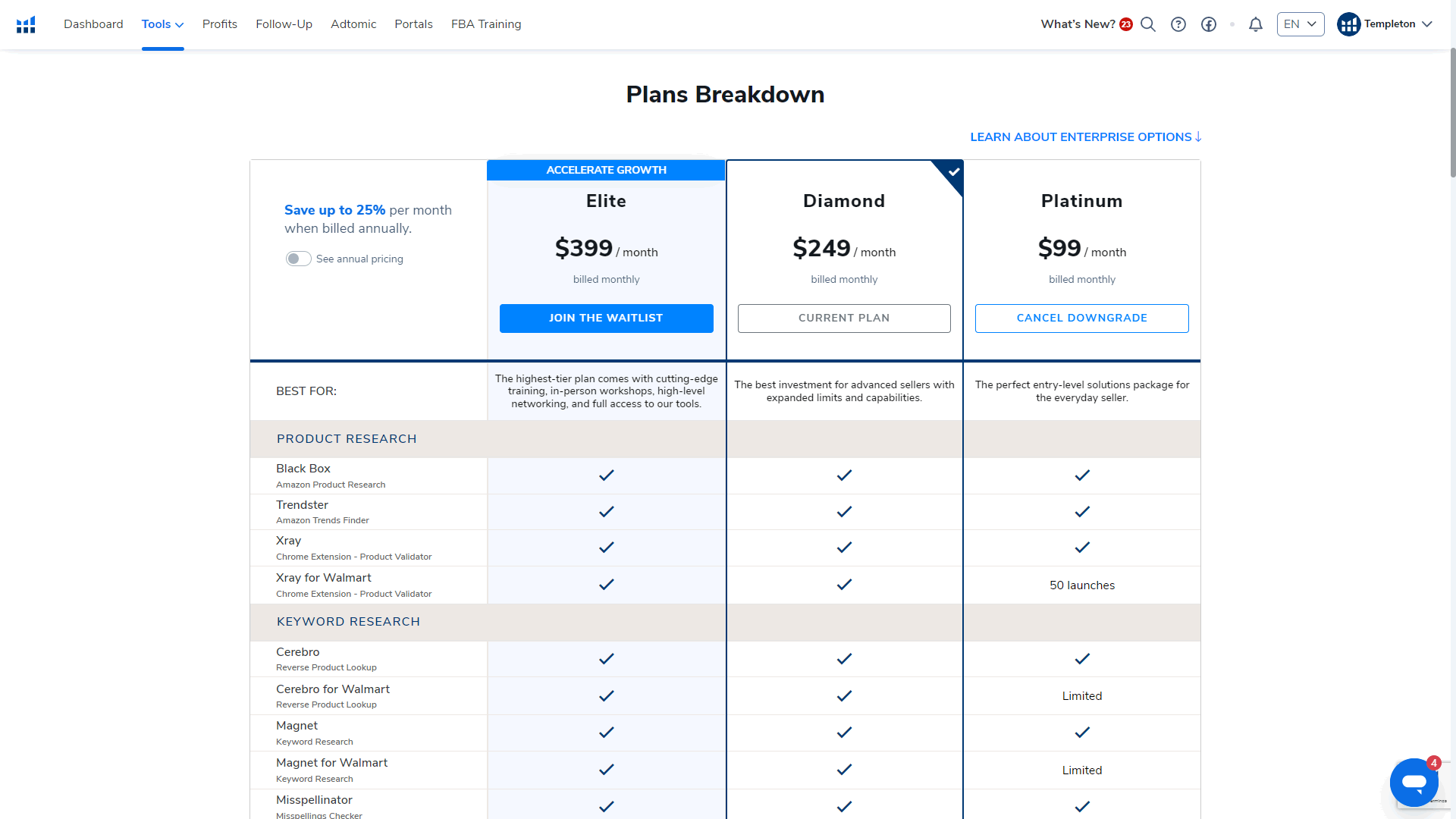 Pause Your Subscription
Finally, Helium 10 also offers the option to pause your subscription. This is a great option for sellers who may need to take a break from selling for a few months but don't want to cancel their subscription completely.
When you pause your subscription, your payments will be stopped for the duration of the pause. Once you're ready to start selling again, you can simply reactivate your subscription and start using Helium 10 again.